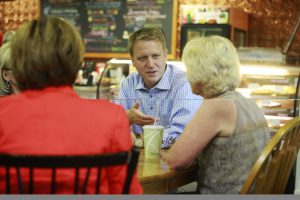 The middle of five children, Aric Nesbitt grew up on the six-generation family farm in West Michigan, paid his way through college, earned an Economics degree from Hillsdale College, and later, a Master's in International Business.  Aric represents the people of Allegan, Van Buren and Kent (Gaines and Kentwood) counties in the State Senate.
Aric previously represented the people of Van Buren County in the Michigan House of Representatives and was a member of Governor Snyder's cabinet.  Aric served in leadership roles, making our principles a reality.  Aric received the "Distinguished Alumnus"award from Hillsdale College for his work as a conservative reformer.
He is working to achieve conservative results, strongly defend our values, and build a brighter future for West Michigan. Aric's top priorities are:
Strengthening our economy and fighting for taxpayers:In the State House, Aric led the effort to balance budgets, lower our state's debt by $20 billion, eliminate nearly 2,300 government rules and regulations, end lifetime healthcare benefits for politicians, require able-bodied welfare recipients to work, and reduce the tax burden. The results were half a million more jobs, higher incomes, and additional opportunities for citizens to use their God-given talents and raise their family here in West Michigan. Aric will work in the Senate to balance budgets, pay down debt, reduce the tax burden, lower auto insurance rates, and promote our priorities, including defending law enforcement, rebuilding our roads, and improving education.
Defending our Values and Constitution:Aric is a proven defender of our Second Amendment Rights, the Right to Life, Veterans, religious liberties, and the Constitution. Growing up on a small family farm and graduating from Hillsdale College, Aric understands the principles of freedom, hard work, personal responsibility, and using our potential to be a blessing to others, both individually and as a West Michigan community and country.
Protecting our Families:Aric knows so-called "sanctuary" cities are lawless and dangerous, criminals preying on seniors and children are evil, the opioid epidemic must be confronted, and operating a vehicle while intoxicated or on drugs is a reckless threat to the innocent. Aric will stand with law enforcement to promote justice and protect our families.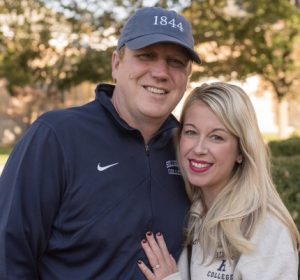 Turning our principles and solutions into a reality has always been Aric's focus. With your support, he will take the principles he learned growing up on the farm, at Hillsdale College and throughout life, and make them a reality in building a better, brighter future for the hardworking taxpayers of West Michigan.
Aric enjoys hunting, target shooting, and helping out on the farm. He is a member of Ducks Unlimited, Michigan Steelheaders, and a life member of the NRA.
Aric and his wife Trisha live in Lawton. His family still operates their grape and dairy farm a few minutes down the road. Aric will fight for policies that will provide the freedom and opportunity for a seventh generation to take over that family farm and for Michigan families to pursue happiness as they see fit.